Extent of the Waterways - River Barrow
The Slaney Drive continues south on the N81. Shortly before joining the main road from Carlow (N80) there is a crossroads and a left turnoff for Aghade bridge. A church spire can be seen in the distance. It is worth stopping and admiring the river from the bridge. To continue on the Slaney Drive, follow the road into the village of Ardattin and take the turnoff to the right as you enter the village. This small and twisty road winds through some enchanting countryside and offers spectacular views of the River Slaney and Mount Leinster on the other side of the valley. It is also home to Ball
in Temple house.
Ballin Temple is an ancient site settled by the Knights Templar centuries ago. It has been in the Butler family for over 300 years and three generations of the family are involved in it today. The river passes through ancient woodlands and accommodation is available in both the lodge and cottages which are on the hillside offering panoramic views of Mount Leinster and the Blackstairs Mountains. Home cooking sustains anglers and nature lovers. Yoga, fishing, cooking and hiking are just some of the activities on offer. Telephone for details (059 915 5037) or visit www.ballintemple.com
To continue following the Slaney Drive, take a right turn at the crossroads which leads down to Kilcarry Bridge. On the far side of the river, hidden behind the trees is the Mill House, former home of T. C. Kingsmill Moore, famous author of 'A Man May Fish'.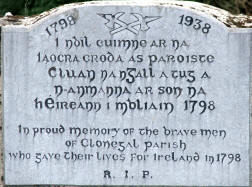 From here it is only a short distance to Clonegal, a charming village and favourite walking tour destination at the end of the Wicklow Way. Situated on the River Derry, Clonegal's popular tourist attractions include Huntington Castle and the restored Weavers Cottages.
Crossing over the river Derry, the Slaney Drive heads towards Bunclody. Although the Slaney Drive itself does not go through Bunclody, the pretty market town is well worth a visit. It is nestled into the foothills of the Blackstairs Mountains and is an excellent base
for anyone wishing to pursue a cycling or walking holiday. Bunclody is also home to Newtownbarry house.
Formerly an O'Kavanagh stronghold, the castle was destroyed in the early 17th century and rebuilt by the Esmondes in 1625 with further additions in the 19th century. Two walks in the grounds are canopied by ancient trees, an enchanting Yew Walk, said to have been planted by monks over 600 years ago and the scented Lime Tree Walk, planted in the 17th century. There is a Modern Art
Museum in the grounds. The castle itself contains many fascinating features from its long history. There is also an ancient vine in the conservatory and a temple to the Goddess Isis in the basement.
Open to the public on Sunday afternoons May and September and daily June, July and August (14:00-16:00). Groups accommodated on other days by special arrangement. Tel.: 053-9277552
Clonegal Slí na Sláinte walking route